10 Gorgeous Types of Curtains to Buy for Your Home – Meta Blinds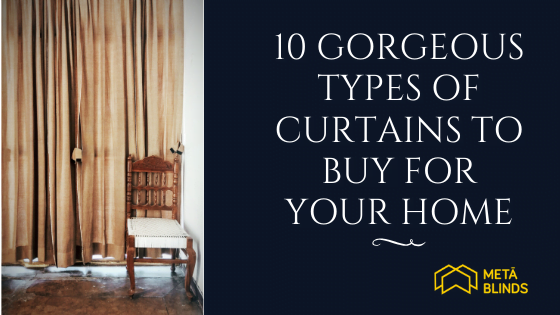 After spending a lot of time decorating your home with the best furniture, giving a nice color to your wall, and even after deciding the color of your wardrobe for hours, there is something missing. Curtains! They have the power to alter the way your room looks. Curtains add to the beauty of your windows, just like adding a little shimmer to your cheeks. There are various curtain types that can complement your room's decor, and you have to choose the right one. Meta blinds are also an excellent option for window treatments.
There are many compelling reasons why curtains are essential in every home and office. Curtains not only provide you some privacy or just cover the windows but it beautifies your home. Many curtain types are customized to enhance the look of a room. Some curtains minimize the light entering through the windows and give you the necessary amount of daylight that you need. Here are some of the best curtains melbourne that you can get for your home or office.
10 Gorgeous Types of Curtains
1. Pinch Pleat (or tailored pleat) Curtains:
If you are looking for a curtain that can give an elegant look to your home or office, you can surely go for the pinch pleat curtains. You can even customize it according to the size of your window. This is one of the best curtain types if you are looking for modern curtains. You can find many leading stores in Australia that have amazing collections of different types of curtains for windows. You can choose from many modern curtains that suit your home or office decor. The tailored pleat is beautifully made into fixed shapes that make it the best choice.
S-Fold Curtains:
S-Fold curtains are a modern looking style of the curtain where the undulations in the fabric are all accomplished through the spacing of the carriers along with the tape. This is a favourite choice for designers and architects because the curtains have no rear — that is, they appear the same from either side. Compared to pleats, S-fold curtains provide a far modern look and enhance the beauty of your home.
Box Pleat Curtains:
The pleats in these modern curtains are designed in box shapes that make it the best choice for a casual look. If you are looking for curtain types that can give a nice casual look to your living room, then box pleat curtains are the answer. You can get the curtains and drapes of your choice in any leading stores in Australia. The popularity of modern curtains has seen a massive increase because of its ability to make your place look absolutely elegant.
Sheer Curtains:
Sheer curtains are not too opaque or too transparent; they are the perfect curtains that let just the right amount of light through them. They are designed to make your place look luxurious. If you are someone who loves decorating their home in a way that looks luxurious, then get one of these from the nearest curtains and drapes store in Australia. You will never regret this decision once you see it fitted perfectly on your windows and gently lighting up your room in the morning you will love it!
Goblet Pleat Curtains:
There are many different types of curtains for windows; you have to pick the right ones that complement your room. If you love detailed designs in your curtains that look absolutely breathtaking, you should probably buy a goblet pleat curtains. They are delicately folded into the shape of wine glass or goblets that have the ability to make your place look modern and elegant at the same time. One of the best modern curtains that provide you with both design and elegance. You can find great collections in the curtains and drapes stores near you.
Pencil Pleat Curtains:
As the name suggests, the pleats of the curtain are designed in such a way that it tends to resemble the shape of a pencil. Several pencil-shaped pleats are tucked together to give it a nice classic look. Some people love the classics, and this can be a good choice from the different types of curtains for windows they can look in the online store. You can also buy one of these from a nearby curtains and drapes shop.
Eyelet (grommet) Curtains:
You have searched through everything, and nothing has caught your attention? You can check for Eyelet curtains; they are simple yet elegant and will give you a cozy feeling. Since the different types of curtains were not as simple as these, you did not fancy them.
Rod-Pocket Curtains:
You want to hang your drapes a little different, and you hate when they look boring? Well, here is your solution. Rod pocket curtains are also known as the casement curtains because of the fact that it hides the rods perfectly. When you get one of these and hang it, you know it better than the different types of curtains that were really boring.
Tab-Top Curtains:
Window treatments with a hint of creativity are what you are looking for? Look no further; just hang a tab-top curtain that gives you a classy look.
Blackout Curtains:
You have looked through different types of curtains for your toddler's room because your baby wakes up even with a tiny bit of sunlight. You should go for blackout curtains as they are a great choice to keep away sunlight when closed.
Conclusion
These are the different types of curtains that can suit the needs of each of your rooms. It is not difficult to find different types of curtains for windows, but finding the right one is tricky. These descriptions of the types of curtain will surely help you choose the best curtains melbourne that matches your home decor. Meta blinds are also an excellent choice for your homes and offices.