Get ready for the warmer months ahead with retractable fly screen doors
By: The Meta Blinds Team, 23rd Jul 2021.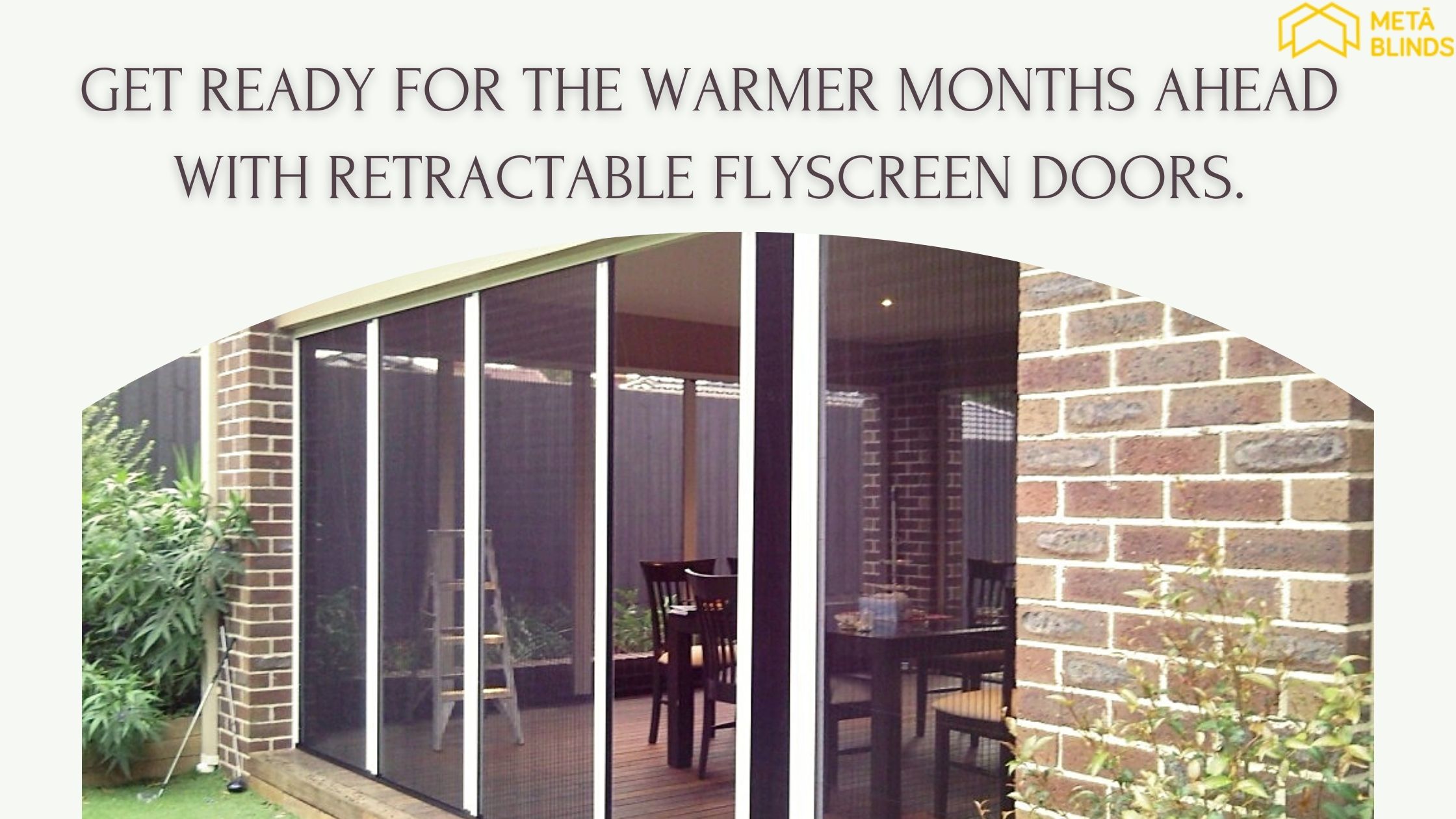 Very soon, we will be welcoming summer this year, and after months of cold breezes, some warmth feels good. Summer is just about to knock on our doors, and we would love to open up our homes to welcome them with open arms.
However, we also want to control the amount of light and heat entering our homes. We don't want harmful UV rays making an annoying atmosphere in our homes. In summer, direct sunlight also damages your valuable belongings such as furniture items, upholstery and others.
What to do about retractable fly screen doors?
Installing retractable fly screen doors Melbourne is the best idea that will allow a fresh morning breeze to enter our home. At the same time, you can keep heat and direct sunlight away from your home in the noontime.
If you live in Australia, you know how insects and bugs make your life miserable and annoying. They are health hazards, and you need to do something about them before they end up making you and your loved ones sick. Retractable fly screens are the best at keeping those unwanted guests away from your home. You can lead a comfortable, convenient and bug-free life by just installing these retractable fly screens.
Though you can go for a permanent option, you will not open them when you want to allow fresh air in the home. With retractable fly screens in Melbourne, you can retract them back into the door frame when you don't need them. It is a more convenient option compared to a permanent fly screen that will completely block air.
Benefits of Retractable Fly Screens
It allows light and air into the home.
The first and most important benefit of a retractable flyscreen is that it allows fresh air and light to enter your home. You can open these flyscreens when you want some cool air to enter your home.
Most of the time, homeowners keep their doors and windows shut during summers. It skyrockets their electricity bills as the AC systems are running throughout the day. However, when you have retractable fly screens installed in your home, you can open them to allow some cool air in the morning time. You can shut them in the noon. In this way, you can save some amount while keeping your room temperature low.
They keep insects and flies away.
Ask any Australian, and they will tell you how annoying it is to live with insects and flies hammering you constantly. With retractable fly screens installed in your home, you can block their entry permanently. They will not be able to enter your home, and you will have a comfortable living with your loved ones. Some of these insects might make you or your loved ones sick. Ordering retractable fly screens online will keep them away once and for all.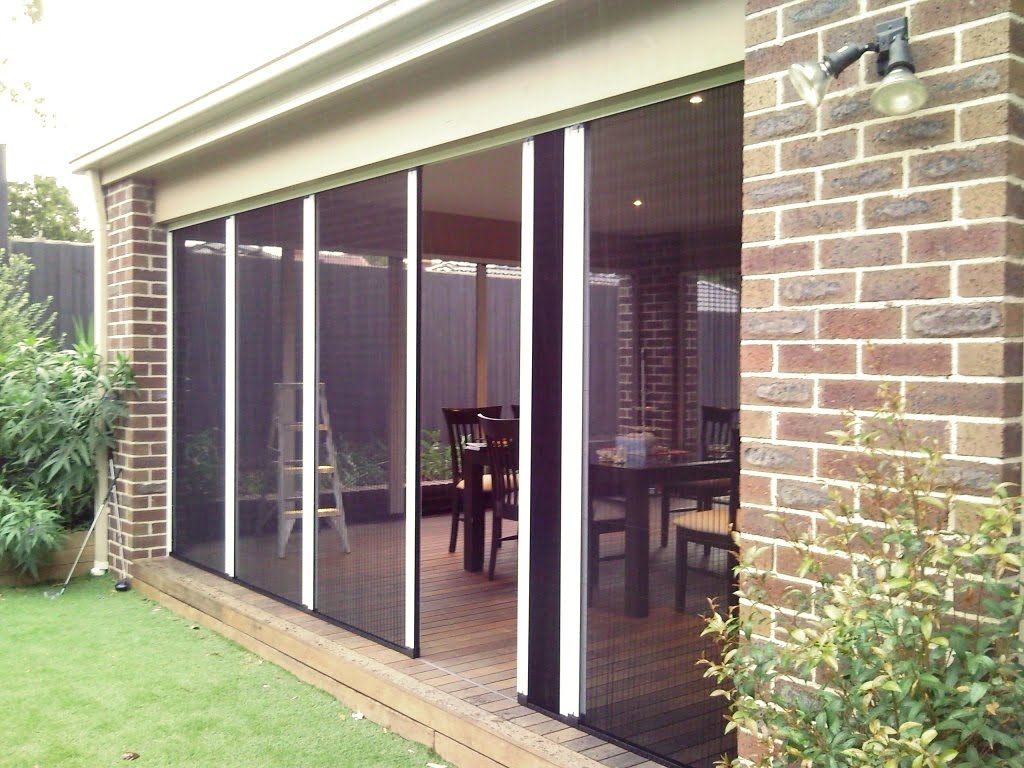 Reduce sunlight glare
Retractable fly screens don't just keep insects and bugs away; they also protect you from harmful sunlight and scorching heat. Not just doors and windows, you can cover your deck or patio with these retractable fly screens to protect your valuable furniture and other belongings you have installed in those areas.
If you want to throw a party for your friends or relatives in the daytime, it is possible with retractable fly screens installed on your porch or patio. All you need to do is to raise and lower them with remote control as and when you feel so. You can have beautiful outdoor living with retractable fly screens.
They are invisible
Retractable fly screens are not like those traditional fly screens that were unattractive and visible. These modern and advanced retractable fly screens Melbourne can be raised entirely and retracted when not in use.
When you retract them, they will not be visible. Isn't it the perfect solution that you were looking for? They are highly convenient, user-friendly and accommodating. If you don't trust, Check our happy lien's testimonial.
Flyscreens are highly durable.
Another vital benefit of retractable fly screens is that they are highly durable. They last longer, at least for 10-15 years. They are made from superior-quality materials, and their active life is excellent. In addition to that, you don't have to worry about the cleaning and maintenance part. They are easy to clean and maintain. You don't have to buy any special equipment to clean them regularly. They can be cleaned easily with a detergent and a clean cloth. So, you will have the best value for the money you are spending.
Available in a Wide Range of Options & Look Great
Retractable fly screens for windows and Retractable fly screen doors in Melbourne are available in a wide range of colours, materials, sizes and styles. You can always find a combination that matches your existing home decor. All you need to do is to look carefully. There are conventional as well as modern designs available in the market with superior finishes and ageless looks. They will offer a great aesthetic appeal to your home when installed properly. They will completely transform your home into an elegant, superior and enthralling space.
Easy to Install
The installation process of retractable fly screens is effortless. You can install them quickly on your windows and doors of any size. Even if you have bi-folding windows or sliding windows or doors, they can be adjusted and installed accurately to serve you for an extended period.
Furthermore, if you want to customise them as per your personal preferences, it is possible too. All you need to do is ask the supplier or manufacturer about details, and they will do the rest. Most of the time, the supplier will have a team of installation professionals who will do everything from measuring your windows and doors to installation.
Easy to Clean
As we have mentioned already, retractable fly screens in Melbourne are easy to clean and maintain. You will not need to hire a professional for the job. You can do it quickly.
Add the Value to Your Home
Australian real estate agents believe that homes with retractable fly screens are easier to sell than homes with no fly screens. As mentioned, installing retractable fly screens will add value to your home by offering an elegant, beautiful look. It will completely transform the ambience and give a lovely view to visitors.
Affordable Price
When you search for retractable fly screens online, you will come to know that they are available at the best price in the market. You don't have to spend a lot. In addition to that, the value of the money you spend is also great.
Wrapping Up
As the summer is approaching slowly, retractable fly screen doors, Melbourne is the need of the hour. They are versatile, highly attractive, durable, reliable, and offer the best value for money.
Ensure that you engage with the best supplier or manufacturer of retractable fly screens with a proven track record. You can choose the fly screens, and they will install them in your home to have a blissful, healthy and comfortable life.