Are plantation shutters still in style in 2021?
By: The Meta Blinds Team, 21st Jul 2021.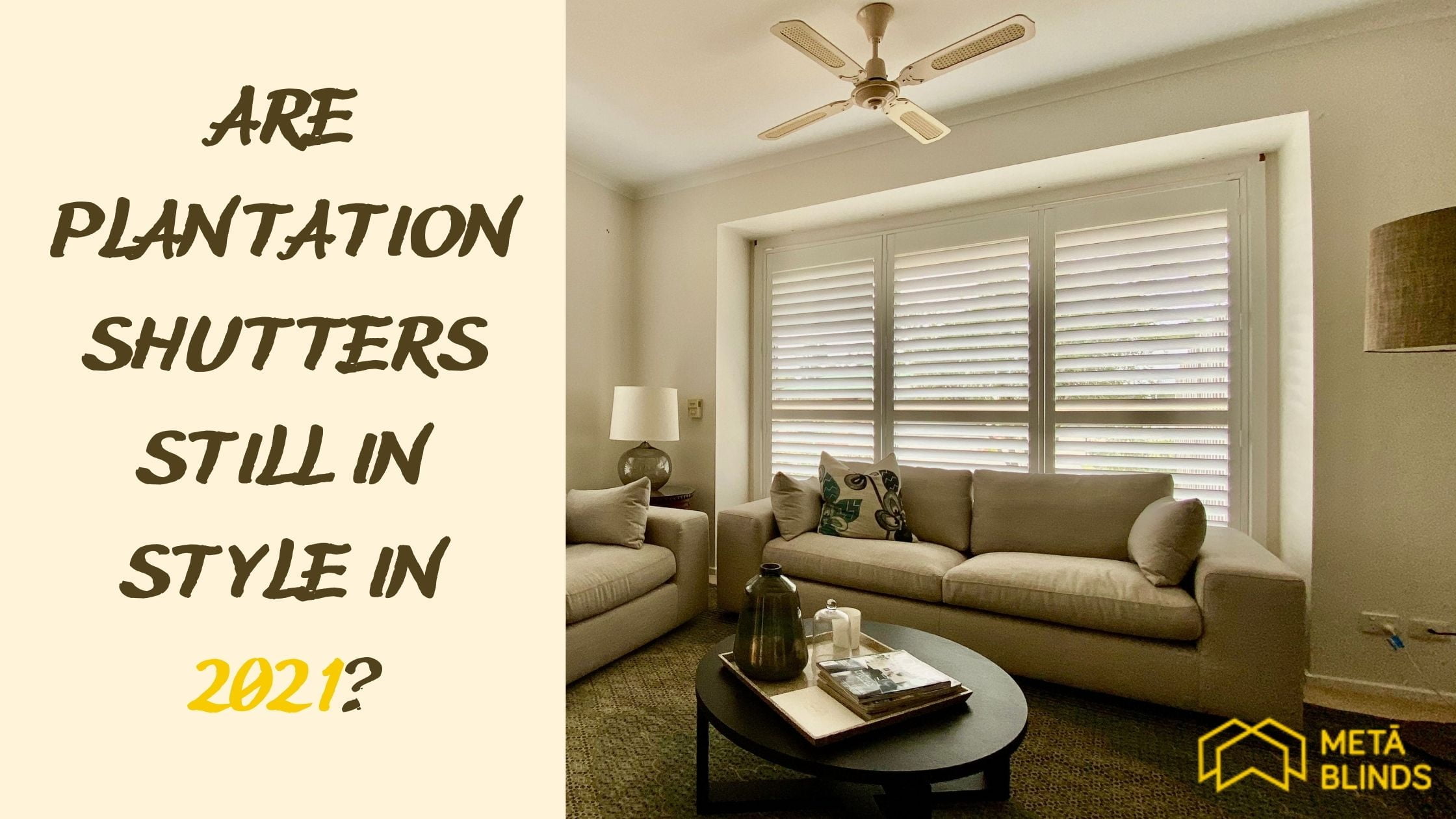 Have you purchased a new home? Do you want to make it appealing, stylish, and timelessly classic? Though you might have spent fortunes on furniture, paint, and other things which add an aesthetic appeal to your home, you should not miss window treatments.
Window treatments offer some unmatched benefits to homeowners. First, it provides that stunning look and feel to the home. Visit a home without a window treatment, and you will understand what I mean.
Furthermore, window treatments also offer superior light and privacy control. You can spare yourself from the neighbours' prying eyes, and at the same time, you can also determine the amount of light entering your home. Many types of window treatments are available for you, such as retractable fly screens, blinds, curtains, drapes, and the best plantation shutters in Melbourne. All you need to do is choose one that serves the core purpose and suits your personal preferences.
When it comes to plantation shutters Melbourne, many homeowners believe they are out of style in 2021. Well, this is not the case. You also need to check out this blog if you think that plantation shutters are out of style.
If you ask experts at interiors and window treatments, they believe that plantation shutters are not out of style. Before we delve into things, let's check out the background and history of plantation shutters.
The background of plantation shutters
Plantation shutters have been around for hundreds of years. In the 18th century, there were plantation mansions built-in derivative forms of classical architectural style, which is why these shutters are called plantation shutters.
So what?
If a style or design was popular a few hundred years ago, it is not relevant today too, right?
For example, in earlier home designs, kitchens were separated and relegated to some corner parts. Is it relevant today? Of course not!
Today, kitchens are large and have become the main central part of the homes.
However, it is not the case with window shutters in Melbourne. They are still relevant as they were a hundred years ago. Though you might question the aesthetic appeal of these plantation shutters, we can bet with their functionality.
Now, functionality is critical while choosing window treatments, which is why plantation shutters are still relevant and highly popular worldwide.
Now, let's check out some benefits and limitations of plantation shutters. It will give you a good idea of why plantation shutters are still considered one of the best window treatment options.
The benefits of plantation shutters:
They offer customisation
One of the essential benefits of plantation shutters in Melbourne is that they are customisable to a great extent. No matter what size of windows you have, you can easily customise your plantation shutters to fit your windows. All you need to do is to choose the best supplier for it. They will custom-measure your windows and design plantation shutters accordingly.
They offer insulation
Do you want to keep your home cooler during the summer? Our electricity bills ruining your sleep? Well, all you need is the best plantation shutters in Melbourne from a reputed manufacturer or supplier, and you can have the best insulation in your home. You can control a huge amount of sunlight by installing plantation shutters on your windows. Apart from insulation, you can also protect your flooring, upholstery, furniture, and other valuable belongings from direct sunlight. You can increase their lifespan.
They are highly durable.
Yes, basswood and PVC plantation shutters in Melbourne are highly durable and are built to last. You don't have to worry about fabrics fading and strings tangling. Once installed perfectly in your home, they will keep serving you for an extended period. In addition to that, they also give a paradigm shift to your home by improving grandeur. You will have a classy, timeless look of the home that astonishes everyone who visits your house.
They increase the value of the property.
Yes, real estate agents strongly agree that plantation shutters increase the value of the property. So, when you think of selling your home in the future, you will get a reasonable selling price for your home. As best plantation shutters in Melbourne offer special appeal to your home, it will also lure potential buyers.
They offer privacy
If prying neighbours is a problem, plantation shutters are a solution. Many neighbours have this habit of peeping through your windows to check your internal affairs. It is annoying, and we know how embarrassing it is to ask them not to do it.
However, installing plantation shutters such as basswood plantation shutters lets you add a layer of privacy to your affairs. They will not be able to see what is happening inside.
Easy to clean and maintain
Furthermore, plantation shutters in Adelaide are easy to clean and maintain. You don't need to put any extra effort or hire professional help to upkeep your window treatment.
Limitations of plantation shutters
Not many options to choose
Plantation shutters are not available with a wide range of colours, materials, or textures. Window treatment options such as blinds, curtains, and drapes are available with plenty of colour, texture, and material options. It is the limitation of plantation shutters in Melbourne.
They are costly
Mostly, the best plantation shutters in Melbourne are custom-built to fit your windows. More customisation means more cost. Yes, plantation shutters are more costly than other window treatments, which might be why people opt for other window options.
You need to clean them regularly
Though cleaning and maintaining your plantation shutters is easy, you need to do it regularly to ensure that they look great and awesome.
You need to adjust them.
It entirely depends on the weather and usage, but you indeed need to adjust your plantation shutters from time to time. It is a frustrating activity for some homeowners.
They are visible
Window treatments such as shades and retractable fly screens can be opened and hidden entirely from view. It is not possible with plantation shutters as they are visible. Furthermore, if your windows tilt in, these plantation shutters can disturb the functioning of your windows too.
Conclusion
Though plantation shutters in Melbourne have some limitations, they are still the first preference of many homeowners who want light and privacy control, insulation, and a great, timeless look of the room.
All you need to do is hire the best manufacturer or supplier offering the custom-measure, best plantation shutters in Melbourne with a proven track record and a dedicated team of installers. They are much more in style even in 2021 and will be the same for a long time.