5 Window Treatment Ideas for Plantation Shutters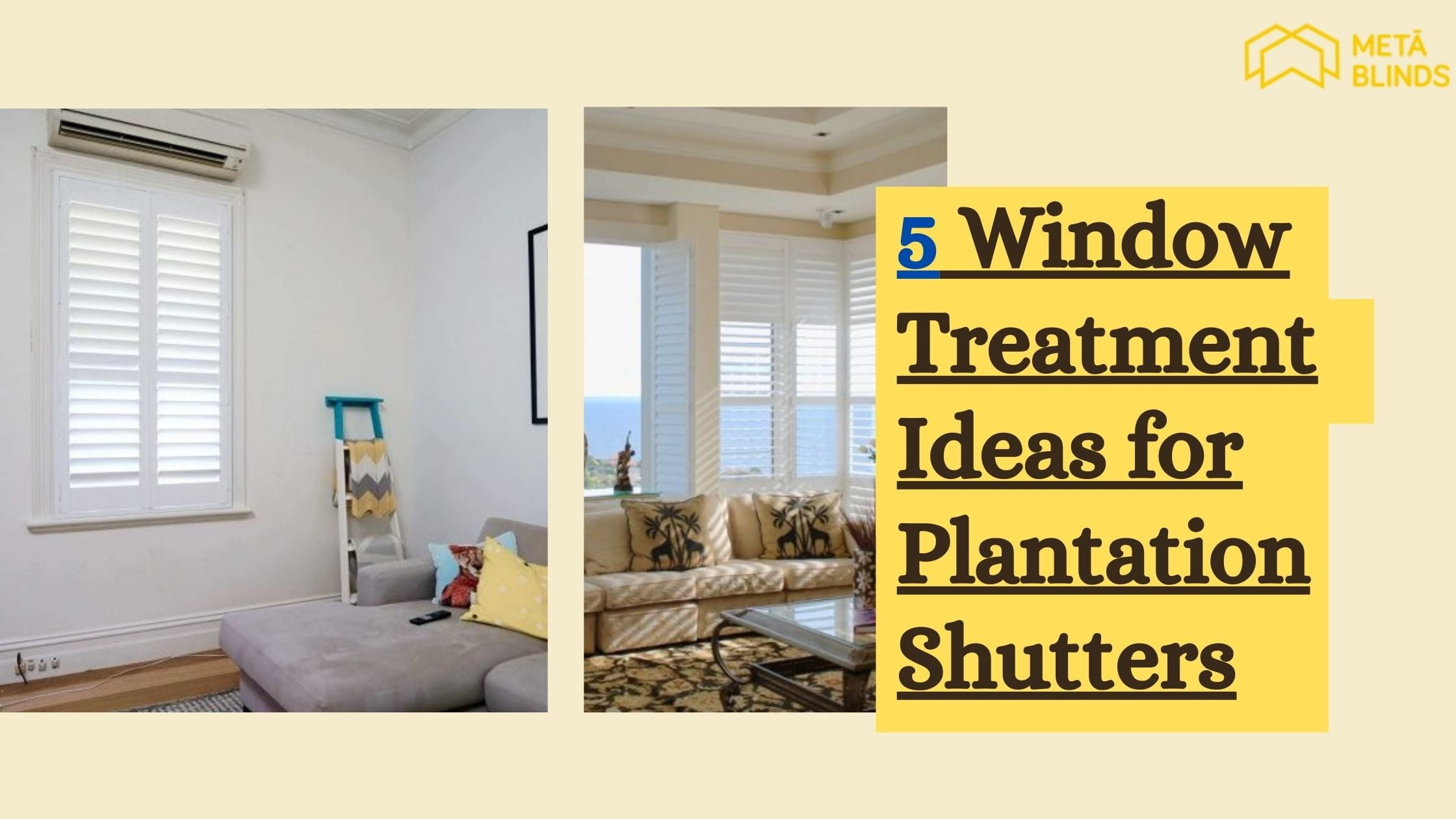 Nothing adds elegance and simplicity to your home as window coverings. Thankfully, we have a wide range of window covering options available for you. However, too many choices might put us in a dilemma sometimes. 
From drapes to sheer curtains to blinds or plantation shutters. You can choose any of these window coverings according to your preferences and choices. What is the product for your home? What should you select among all these elegant window treatment options? 
In Australia, homeowners are slightly biased towards classic, elegant, and beautiful window plantation shutters. Versatile and natural, these plantation shutters serve the core purpose of adding charm, grace, and magic to your home. 
You can buy plantation shutters from Meta Blinds, one of the top-notch window furnishing players in Australia. They have carved a niche by offering high-quality, versatile, and superior plantation shutters at the market's best price. Also, they provide the best-in-class installation services. 
No matter which type of décor style your house has, indoor plantation shutters will indeed work for you. They are perfectly suitable for any living space. They possess a universal appeal that matches all kinds of home décor. 
If you search online, you will come across many types of window shutters.  However, plantation shutters win the game here. 
W

hat is the reason for that?
The reason is many. Plantation shutters Melbourne are easy to use and highly functional. In addition to that, they also offer a splendid, spacious, and bright feel to any room. 
Just incorporate them by layering with any soft window treatments such as drapery panels. The combination will offer a magnificently lush appearance. 
This is also a reason why homeowners choose the best plantation shutters Melbourne amongst all other available shutters. Plantation shutters can be combined with other different window treatments to give a new, unique and elegant look to your home. 
For example, you can add sheer curtains on the sides of your windows and make the whole ambience look more elegant and rich. 
If your main aim is privacy and light control, you can add plantation shutters in the bottom part of the windows. 
This blog reflects five main home decor types and how plantation shutters can complement them perfectly. 
We all have heard about this term called modern décor, which means a home with a simple yet elegant colour palate. Generally, in the house with modern décor, metal, glass, and steel materials are used. Contemporary home offers a sleek and simple look in all elements of the home. Even furniture items are preferred with minimal accessories. 
Interior decorators don't prefer to use a lot of wood in case of modern décor. So you have two options when it comes to plantation shutters- Composite or PVC. 
Window plantation shutters Melbourne such as composite shutters offer the look of natural wood and also have good resilience and durability. 
On the other hand, PVC Plantation shutters don't warp, peel, chip, or discolour. Even in constant prolonged exposure to sunlight or moisture, they will keep shining like anything. They are strong, durable, and highly reliable to be used in modern home décor.  In addition to that, care and maintaining these plantation shutters are easy and effortless. All you need to do is to dust them off with a soft cloth to clean them. You can buy plantation shutter from Meta Blinds, offering top-notch quality and superior designs. 
Rustic décor, as the name suggests, offers that jaw-dropping rustic look that will blow your mind. In rustic décor, homeowners prefer to use natural elements such as wood, stones, and others to create a natural look. 
Rustic furnishings add a warm and rich feel to the home. Some of the most common furnishings used in rustic décor are stone counters, wood beams, wooden tables, and chairs, etc. 
Here, when choosing plantation shutters for window treatments, you can go for natural wood plantation shutters as they will complement the whole natural ambience and enhance the home's aesthetic appeal. 
You can choose from a wide range of natural wood shutters with different stains and colours. Also, most of the window treatment suppliers personalise shutters with custom paints. You can create a unique, stylish look for your home that never fades away.  Also, wood window plantation shutters offer insulation to the home, bringing comfort and convenience to your home. 
Minimalist décor is similar to modern décor with a bit of twist. You will see the simple colour palettes with sleek furnishings, but with no exaggeration. Here, everything is streamlined and straightforward, which encourages functionality and utility. You will find a sense of simplification and cleanness here with minimalist style and furniture. 
Here, window plantation shutters would show their true magic as they are easy to use and straightforward. With hidden tilt rods and motorised operations, plantation shutters are easy to clean, durable, and add top-notch functionality. Also, it adds style, value, and simplicity to the home décor. 
You can go for multiple colour combinations with contrast, and you can also take liberty with sparse furnishings. You can also go for a wood tone stain or go for a white trim in the rooms. You can use bold colours for your child's room that still looks simple and with much added functionality.
As the name suggests, industrial décor is about taking inspiration from industrial designs such as a warehouse or factory or godowns. Here, you will find a sense of unfinished rawness and a rough look. Designers use exposed brick, wood, or ductwork mostly to get that industrial look. Also, homes with industrial décor have high ceilings, functional furniture, renovated lofts, and much more that offer a sense of unfurnished industrial floor.
When choosing indoor plantation shutters here, you can go for wooden plantation shutters as they will complement the other furnishings. You will see shutters matching with wood, brick, and other metals used in the home décor, offering a uniform look to the home. They look unique, yet simple with raw elements adding the beauty of the house.
If you are looking for a timeless, classic look with lavish furnishings, you go for traditional décor where accessories are used throughout the home. Here, you will see rich colour palettes and other textures and patterns offering a traditional yet rich look. Furniture would be standard with classic fabrics, which create a sense of depth and texture.

When it comes to indoor plantation shutters, they are considered a popular choice for homeowners with traditional décor. Mostly, homeowners go for white window plantation shutters that brighten up the space to offer a traditional classic look. 
At Meta Blinds, we always believe that our customers come first in whatever we offer. Your comfort and convenience would scale high for us, from free consultation to choosing the right plantation shutters to installation. 
We have experts in the domain who will inspect your home first to decide which plantation shutters will go perfectly with your home décor. We have a wide range of shutter styles for each room that complements the look. If you are looking for a personalised look, we will take care of that too. Buy plantation shutter from Meta Blinds and get the best value for money.