14 Modern Curtain Designs For Your Living Room
By: The Meta Blinds Team, 15th Jul 2021.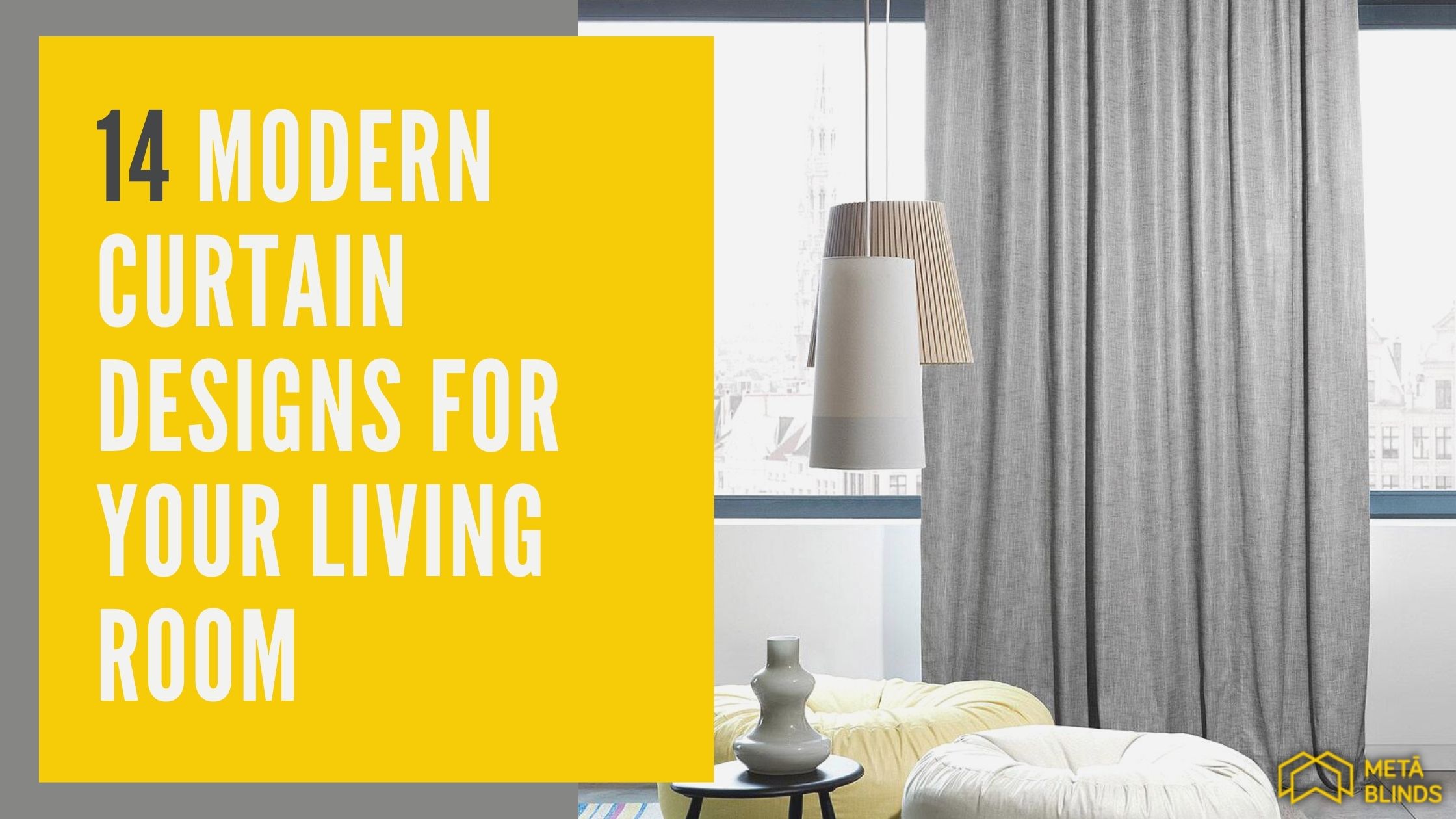 When we talk about window treatments, curtains are the first ones to come to our minds. It is one of the most popular and traditional window treatment options. One reason modern curtains are back in fashion is that they are available in a wide range of textures, fabrics, designs, and patterns. You can choose any of them as per your aesthetic requirement and home decor.
There are many other window treatment options available in the market, such as blinds, Venetian blinds, flyscreens, and plantation shutters. Curtains are still ruling the industry for all the right reasons. If you check out ten homes in your neighbourhood, at least seven out of ten homes would have curtains decorating the home, making it vibrant and radiant.
What are the advantages of Modern Curtains?
Do you want to know why homeowners and designers still prefer curtains in Melbourne? You need to check out the benefits curtains have to offer you.
1. Energy efficiency
If huge electricity bills are annoying you, installing modern curtains in your home might help you. Curtains are highly effective in keeping the harsh sunlight away from your home; apart from keeping your room temperature lower, curtains also protect your valuable belongings such as furniture, flooring, artifacts, and other accessories.
You can have a cooler home in summers and a warmer room in winters. They are highly energy-efficient, and you can save a considerable amount in the long run.
2. Light Control
Curtains in Australia also offer you effective light control. You can decide the amount of light you want to allow in the home. If you like total darkness, all you need to do is close the curtains, and you have it. Keep bright glaring lights away from your room with curtains. You can open curtains in the morning to enjoy delicate sun rays. Keep the light control switch with you with modern curtains and have a comfortable living.
3. Manage Privacy
Another benefit of modern curtains is their ability to manage and maintain your privacy. You can prevent those prying eyes from entering your home when you have curtains installed on your windows. Don't let others interfere with your private affairs.
4. Security
Thanks to pre-setting timers available with modern curtains drawn in at specific hours to give the impression of people's presence indoors even if you are not. You can add a layer of security to your home with these curtains
5. Flexibility and Customisable
Curtains are one of the most flexible window coverings as it is available in a wide range of textures, colours, patterns, designs, and fabrics. For each room, you can go for unique material, colour, and design. Also, you can go for layered curtains with thick and sheer or semi-sheer curtains to add sophistication and class to the home decor.
Furthermore, curtains in Melbourne are also highly customisable. Tell your exact and precise requirements, and you will get what you are looking for. Also, they can be installed for any type of window.
6. Affordable and Durable
Curtains are highly affordable compared to other window treatment options such as plantation shutters. In addition to that, they are also highly durable and last for years. As they are affordable, you can change them and go for a new look after a few years. It will not be a burden to your pockets. It is not a one-time investment such as plantation shutters or flyscreens. Nowadays, curtains are available with unmatched quality and durability.
Now that we have discussed the benefits of modern curtains, we will discuss some modern curtains designs to choose from for your rooms.
Most of the time, homeowners buy curtains online without researching much. They choose from whatever options they find, irrespective of whether they match with their home decor or not. It is not the right way to buy curtains. Think of your home decor, elegance, charm, and sophistication before you end up purchasing modern curtains for your home.
If you research on the internet, you will find plenty of curtain design possibilities to explore. We will discuss some of them here.
7. English Curtains
English curtains are generally used for large, picturesque French windows and highly versatile. You can use them for any type of home decor, whether rustic or traditional, or modern. One reason why English curtains in Melbourne is popular is the English elegance they add to space. If you have vintage wooden sofas and modern minimalist furniture, English curtains mix well with all.
8. Linen Curtains for Living Room
Linen curtains are also one of the favourite curtain types, especially for living rooms. Linen fabrics are a soft, natural, breathable material that allows light and air to flow through your home.
The bohemian aesthetic appeal is hard to miss. It matches perfectly well with rustic decor.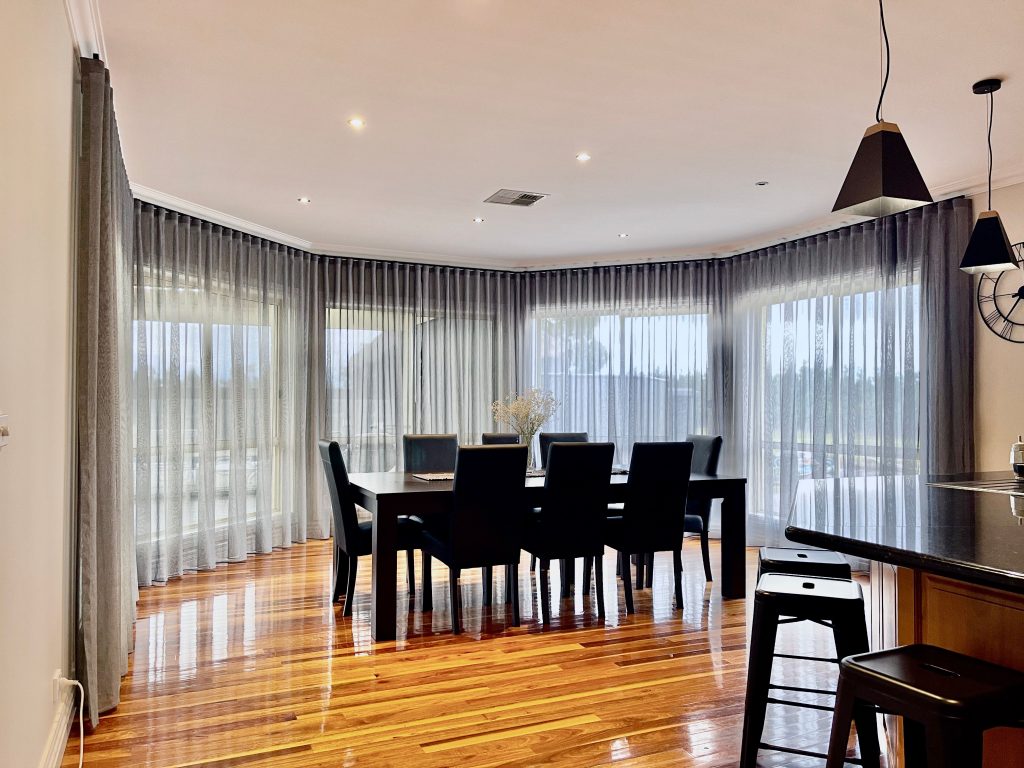 9. Vibrant Red colour Curtains
Generally, these curtains are used temporarily for festive occasions and are not considered a permanent option. However, even for temporary use, vibrant red colour curtains uplift a living space and blend well with any type of home decor. Ensure that the bright red colour does not clash with other colours around the room.
10 Cotton Curtains
Cotton curtains in Melbourne are considered a perfect addition to the living space. One of the qualities of these curtains is they keep the living area breathable and actively help in the air circulation. They can be thick, depending on the material you have purchased. The only drawback of this curtain type is that they fade with time.
11. Ikat Prints Curtain
It is a new curtain pattern that is highly popular in Asian countries such as India. Ikat is a type of resist dye ancient method with different bold, radiant and vivid patterns. It is traditionally woven in India. It is a versatile and highly durable fabric that offers a superior soft feel and a beautiful look to the room. With a wide range of designs, these Ikat prints curtains can make the room look more bright, vibrant, and soft.
12. Woollen Curtains
It is a scarce material that is used in the making of curtains in Australia. Due to its characteristic of keeping the space warm, they are preferred in areas where winters are deadly.
13. Floral Print Living Room Curtains
If you want to add a pinch of mischievous and impromptu appeal to your children's room or bedroom, you can go for floral print curtains. A few decades ago, these curtains were very famous and in trend. They add a bright spot of colour, texture, and design to spaces and offer a unique, textured look to the room. They can be installed in the living room, too, if you want a light, unsophisticated and unconventional look.
14. Silk Curtains
Silk curtains offer a royal, radiant feel and are perfect for the living room to look more opulent and beautiful. Silk is a soft and thin material that offers a vibrant and elegant feel to the room. However, you need to know that silk fibers unravel after some time. You can go for Faux silk fabric if you are looking for affordable and long-lasting fabric.
Conclusion
These are some of the curtain design ideas that you can implement in your home. Go online and buy the best curtains in Melbourne from the best manufacturer or supplier of curtains and beautify your home.