7 Trending Room Divider Ideas to Use in 2020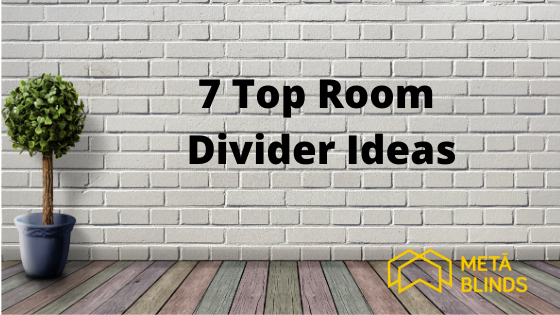 Are you planning to partition a room as per your convenience? The room divider methods in the current market are perfectly suitable for both small and large spaces. It will allow people to enjoy privacy in a small space as well as it can help them to find new places in open or large areas. In recent trends, there are plenty of clever room divider ideas that have been established by companies that can satisfy the needs and requirements of all the customers around the globe. It may be an office or home; people keep on looking for the cheap room divider ideas to make their space useful and effective within budget-friendly prices.
 Initially, the customers need to consider all the room divider ideas thoroughly and choose out the best option that is fit for their needs. 
Here are the best and cheap room divider ideas. 
1. Give A Rich Look To Your Space With Curtains
Curtains can play a vital role in both the home and office that will get you to enjoy the desired privacy. It is an excellent way to make partition in the room among the different sets of room divider ideas. The curtains like black sheer curtains or white sheer curtains can alter or change the entire look and appearance of the space and grabs close attention from the people with its vibrant colours. Make your space more effective with modern curtains and have some privacy without any disturbances from your surrounding areas.
In addition to that, curtains also enhance the appeal of the room. Installing curtains can give you temperature and light control in both the rooms. You can have the best cosy atmosphere in the room when you divide a room with curtains. 
 2. Divide The Room Space With Folding Screens
Even though there are plenty of room divider ideas for living rooms, the folding screens can work well in your home and offer an apt solution to the problem of making partitions. Folding screens not only help you to divide the room, but also increase the beauty of your home interior. Check out on the internet how dividing the room with folding screens look and you will get some ideas about how to go for it. 
3. Have Some Extra Storage With Hangers And Vertisheers
The vertisheers in the market look like sheer curtains that offer an elegant and stylish look to your space. People can find various sets of designs and colours at competitive prices in the market. The latest innovations in vertisheers are quite attractive that are easy to clean and maintain for a long period of time. However, the multi-colour engraved in the hangers can enrich your space with an amazing look. It will allow you to enjoy a fashionable section of colours, textures, and patterns. The hangers are reusable that can define your space more artfully. Therefore, people need to understand the significance involved in modern curtains rather than building a wall using bricks inside the room.
4. Make Use OF Glasses To Have A Partition In Small OR Large Space
The glass partitions are one of the richest room divider ideas perfectly suitable for the workplaces. The necessity of the organization gets changed frequently, and so the glass partitions will help them to define a separate place to make their work even more effective. There are plenty of glass varieties available at the market today, and you would choose the one as per your requirements. This is the best and cheap room divider option for the offices where the entire working process can be completed within a quick time.
5. Create Desired Look With Wooden Slats And Bookshelf
Are you seeking for the room divider ideas for the living room? Recently, the bookshelf and wooden slats are widely used by the people to make their partition more useful and attractive. If you are a book lover, then have a private space with a bookshelf in your living room. The wooden slates are almost permanent partitions that can offer long term benefits without having any extra care and maintenance. Apart from the sheer curtains and modern curtains, people also started to install these kinds of room divider ideas to have the desired space in their rooms.
6. Enjoy Your Indoor Privacy With Retractable Fly Screens
You can make your living spaces cool and fly over the sky by installing the removable fly screen in your home. The style and cutting-edge technology of removable fly screens are perfectly fit for both residential and commercial applications. People can decorate their rooms as per their requirements by using these retractable fly screens that are child-friendly as well as the operation is quite easy and simple. 
7. Decorate And Divide Your Place With Sliding Doors
It is a great option for partitioning your space that brings a new appearance to your home or office within affordable prices. Among the plenty of cheap room divider ideas, the sliding doors are something different and space-saving ones. People also have a chance to cover these doors with attractive designs of ready-made curtains by considering the exact width and height. If you want to make your partitions even better, then cover it with the latest trends of sheer curtains.  
Final Thoughts
Thus, these are all the topmost room divider ideas that can create a private space even in large and small areas. People around the globe have started to invest in the smartest room divider ideas for living rooms instead of building the walls by bricks. If you want to make the partitions at low budget prices, then make use of the ready-made curtains and sheer curtains online australia that alter the entire look and appearance of your space under your estimated cost.
When you have decided to pair blinds with curtains, the first thing that you need to do is to choose the blind type. You can go for roller blinds online, or you can go for Venetian blinds that pair well with drapes and curtains. Here, you need to pay attention to the fabric and colour selections as they will play pivotal roles in decorating your room.