7 Beautiful Study Room Ideas – Meta Blinds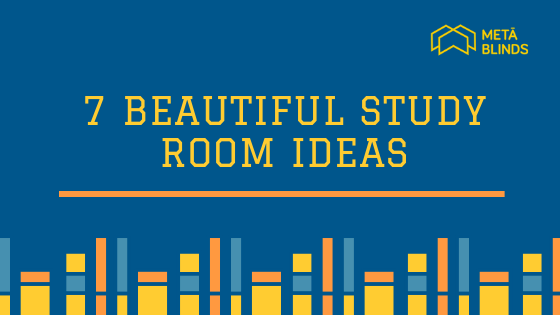 Reading opens the door to endless creativity; you bring the characters of your books alive in your mind and live in a world of your own. A study room is an essential part of the home where new concepts are learned, a project idea is born, or you just work with complete concentration. You want this place to be designed in such a way that you are motivated to study or just focus on whatever you want to accomplish. Different people has a different study room ideas in their mind.
Designing your home library with a hint of creativity can bring you a plethora of benefits. Your study room is your place of enlightenment, so you will surely want to design it accordingly. A subtle color to the walls of your study is a large window with beautiful curtains that complement the color of your wall.
Books stacked in an orderly manner paired with comfortable furniture that you need to make your reading experience a blissful one in your home library. Designing your study rooms will allow you to make your time inside that room a productive one.
Here are some of the study room ideas that you can use to imbibe a new interest to read:
1. Use Transitional Space:
One of the best reading room ideas is the usage of your transitional space. The closeness of your room to your garden or an outer space makes it ideal for a reading nook. Every home has an exterior space that may seem just like a normal room but you have the power to transform it into your home library with all your favourite books. You can play with some colours and textures to paint it with your imagination of an ideal home library. So use your extra time to beautify your reading nook with all things possible.
2. Add Floor Cushions:
You really want to make your study room a place of comfort while you read through the lines of your favourite book. Adding floor cushions can make your reading look a happy place. Your home library can be the best place in your entire house where you can escape reality and indulge in your favourite novel, relaxing on a floor cushion. This is one of the essential additions in reading room ideas.
3. Maximize Light:
You might love low lit rooms in the evening that bring a sense of serenity but are bad for your eyes if it comes to reading in low light. In the morning, make sure you move those beautiful custom made curtains aside and let the natural light flood in. Australia is known for its bright sunshine, then why not use it to illuminate your reading nook? You can even buy modern curtains that suit your needs. Roller blinds Melbourne is also a great option for your window treatment to adjust the amount of light entering. You can also add window plantation shutters to maximize the natural lights.
4. Keep It Cozy:
Your home library is your place of relaxation and letting go of all your worries, and you surely want it to be cozy. Always keep the room at the right temperature just warm enough and cold enough. You can use the best roller blinds Melbourne to let the right amount of sunlight inside your study room.
5. Use Curtains, Roller Blinds or Plantation Shutters as Window Treatment:
Curtains add to the beauty of your rooms, and when you are planning your reading room ideas, do not miss on those beautiful custom made curtains. You can buy modern curtains from any leading stores that sell the sheer curtains online australia. You could use window plantation shutters for adding some light and warmth when you need it. You can buy the best window plantation shutters from the best shops that sell indoor plantation shutters in Australia. Roller blind Melbourne is also a great option that you can go for; they can even beautify the space if you know the right colour for your roller blinds Melbourne. This is most essential study room ideas to implement in your study room.
6. Surround It With Books:
When you are looking for the best reading room ideas, you cannot leave out on books. Books are what make the study room a beautiful place. Arranging the books all around according to their genres in different designs of stacks. When boredom strikes or when your creativity seems to run out, you can enter the room full of your favourite books, pick them, and energize yourself.
7. Bookshelves:
You can get creative even with your bookshelves. You can carve out your wall in different shapes and fill it with books. Your study room will resemble paradise when you design it with all your creativity put together. You can also buy some wooden shelves with glass exteriors. At the end of the day, it is all about making your study room the best place.
Conclusion
You can apply these study room ideas and fall in love with your favourite books inside a beautifully designed study room. You will never regret the time spent on designing this place because it will all be worth it in the end. So start beautifying your study room today.